Now&Then 53 - December 2011
The final Issue for 2011 features loads of online news and updates, Open Day success, Spotlight on 50 years of State Records, the 2011 Christmas Competition (be in it to win it!) and much much more.
Seasons
Greetings!
Thank you to all our Now&Then subscribers for your support during 2011. We look forward to bringing you more tips, updates and Spotlights in 2012! We hope you all enjoy a safe and relaxing holiday period. Remember we would love to hear from you, if you have any feedback or comments about Now&Then email the editor at nowandthen@records.nsw.gov.au.
Christmas & New Year Opening Hours
Here are the Reading Room opening hours for the Christmas and New Year period:
Friday 23 December -

OPEN

Saturday 24 December –

CLOSED

Monday 26 December –

CLOSED

Tuesday 27 December –

CLOSED

Wednesday 28 December –

CLOSED

Thursday 29 December – 

CLOSED

Friday 30 December – 

CLOSED

Saturday 31 December – 

CLOSED

Monday 2 January - 

CLOSED

Tuesday 3 January - 

OPEN
Changes to the Copy Service over the Christmas/New Year
With several public holidays and staff on leave over the festive season copy orders will be completed within the standard time frame of 20 working days. The five day urgent copy option for digital copies (including 25% surcharge) will not be available between Wednesday 14 December 2011 and Friday 27 January 2012. If it is vital that an order be completed within 5 working days during this time please contact the Reprographics Officer on (02) 9673 1788. We apologise for the inconvenience.
Great gift ideas
Need some help finding the perfect gift for that hard-to-buy-for relative? Why not purchase something different.......
NEW

Moments in Time book
The book includes photos from the "Moments in Time" blog series on Archives Outside, our Flickr photostream and comments by you! It was through the blog series that we were inspired to create this book. Every fortnight we ask "Can you date this photo?" and much enjoyment and head scratching ensues over who can identify the images and how.
Special! Buy direct from State Records for $45.00 over the counter or $51.35 by mail and also receive a free copy of State Records 1788-2011 by Peter Tyler.
Available in 2012! Stay tuned for news of our next book Wonderful, Interesting, Sublime! featuring 50 highlights from the State archives collection. Enquiries and advanced orders: susan.charlton@records.nsw.gov.au or phone (02) 8247 8624
First Fleet Posters
This chart comprises the eleven ships of The First Fleet and lists the names of those who sailed from Portsmouth, England in each of those ships on 13 May 1787. The chart also includes those who left on board and did not reach Sydney Cove as well as those children who were born during the voyage.
This impressive and detailed poster lists all the ships of the First Fleet and its passengers. Alongside each name is listed the passengers' status ie., convict (the sentence and alias is included), master of the vessel, lieutenant, wife of mariner etc and if the passenger died on the voyage. Size is 420mm x 595mm.
Price = $12.00.  By mail = $15.00 (includes postage & handling)
The Old Register 1-9 DVD on Special
The Old Registers 1-9 are on special. Normally $125.00, they are selling at $100.00 until 14 December 2011. The Old Registers provide a valuable insight into this State's colonial history from 1794 to 1824.
The wealth of social detail provided in the register, as well as the listing of names of early colonists and place names within Sydney and the colony, provide an invaluable research tool for all those interested in the history of Australia..."
Christmas Competition
Once again State Records is running a Christmas Competition for Now&Then subscribers.
Winners will receive ONE of the following:
All you need to do for a chance to win is to answer 10 questions. The first 10 correct entries will win a prize. The names of the winners will be published in the February Issue of Now&Then.
The competition is now closed - good luck to you all!
2011 Satisfaction Survey
To help us plan and improve our services we are keen to receive your comments, criticisms and suggestions in our 2011 satisfaction survey. The survey will only take a few minutes to complete.
There is also a prize for one special participant who completes the survey. Our new book Moments in Time is up for grabs and details can be found at the end of the survey. We are again using the online software Survey Monkey which provides an easy way to conduct, manage and analyse data.
The survey is now closed. Thank you for participating.
Online News
1. New Online Gallery: Sir Douglas Mawson - Blizzards and Bureaucracy
Celebrating the Centenary of the Australasian Antarctic Expedition 1911-14.  The expedition provided the world with more than a truly heroic tale of survival against the odds. It left the legacy of a vast collection of valuable scientific data and specimens in the areas of geology, cartology, biology, meteorology and geo magnetism.
In 1920 Sir Douglas Mawson entered into an agreement with the NSW State Government to publish these records. The project was not completed until 1947 – 28 years after the initial agreement was signed and 33 years after Mawson's return. This gallery shines a light on the somewhat heroic efforts of both Mawson and the committee in charge of the printing of the voluminous scientific reports resulting from this groundbreaking expedition.
2. Index Updates
New

Index to Chemists, Druggists and Pharmacists

This index may assist those researching chemists, druggists and pharmacists who were registered between 1876 and 1920. It contains c.3000 entries.
New

Index Recommendations for Pardons, 1826-56 added to the Convict Database

This index contains recommendations for both Absolute and Conditional Pardons. It covers the time period 6 May 1826-30 June 1856 and includes over 12100 entries.
Young Gaol now listed in the Index to Gaol Photographs
110 new entries have recently been added to the Index. The Gaol Photograph Description Books contains a photograph of each prisoner and the following details: name, aliases, date when portrait was taken, native place, year of birth, arrived in colony - ship and year, trade or occupation, religion, degree of education, height, weight (on committal, on discharge), colour of hair, colour of eyes, marks or special features, where and when tried, offence, sentence, remarks, previous convictions - where and when, offence, sentence.
3. Today in History - revamp
Our Today in History page has grown considerably over the last few months, to the point where it has been revamped and is now listed month by month. Explore a different view of the State archives and glance through the history of New South Wales and the State archives day by day, month by month.
4. Feedback on the new API
The new catalogue search tool has been available to use for some time through our website. If you have tried this new search tool we would love to hear your feedback to give. We are actively developing the tool and would like to make it as useful and as intuitive as possible. So please post any feedback you have as comments to this blog post.
Ever wondered about the history of your home?
The new ABC television series Who's been sleeping in my house? hosted by archaeologist Adam Ford 'explores the extraordinary histories that exist between the bricks and mortar that most of us call home.' If you would like to learn more about the history of your home Archives in Brief 116 - Researching your house and property is a good starting point. It provides an overview of the major sources for researching houses and properties in State Records' collection and lists other organisations that may hold relevant material.
Pure Merinos and Others - PDF version online
The publication Pure merinos and others: the "shipping lists" of the Australian Agricultural Company by P A Pemberton lists the 700 men (some accompanied by their families) who were brought to New South Wales by the Australian Agriculture Company to work either at the colliery in Newcastle or on the extensive pastoral estates at Port Stephens, Tamworth and the Liverpool Plains. Using the shipping lists from the records held at the Noel Butlin Archives Centre, Pure Merinos and Others records the names of these newly arrived employees and, wherever possible, details of their ages, occupations and wages.
Unfortunately, Pure Merinos and Others has been out of print for a number of years but we are pleased to report that it is now available in PDF format on the ANU (Australian National University) Archives Collections website.
New Scan Pro in the Western Sydney Reading Room
We have recently received an additional Scan Pro machine in the Western Sydney reading room.
The Scan Pro allows you to scan from microfilm, microfiche and aperture cards and download the image on to your memory stick. This is a free service. Remember to bring your USB with you when you visit – but if you forget we have USBs available for sale for $10.00 each. Ask at the reading room desk.
Photocopies from the copying machines in the reading room are still available at $1.00 for A4 and $2.00 for A3 copies.
State Records celebrates the 10th Anniversary of its Volunteers Program
2011 not only marks the 50th anniversary of State Records NSW as a government agency but is also a very special year that marks the 10th anniversary of our Volunteers Program. From very humble beginnings the program has grown into a veritable power house of industry which has done so much to ensure our archives and the names embedded in those archives are available to the whole world.
During the last ten years our volunteers have made a magnificent contribution to State Records. Their work in the area of preservation and indexing the collection has helped State Records immeasurably in achieving its many goals. The volunteers' indexing work has been invaluable in making our collections more accessible to the general public and has been achieved entirely through the commitment and altruism of this very fine group of people.
Thank you State Records' volunteers you are all very much appreciated!
Open Day Success
On Friday 28 October 2011, State Records NSW held an Open Day at its Western Sydney Records Centre at Kingswood. This was the first such event for many years, and the response was overwhelming. More than 300 visitors responded to the invitation to venture 'behind the scenes' at a large Government Archives facility and all the advertised events were booked out well before the day. The Open Day was the last of the activities arranged as part of the celebration of 50 years of State Records. It provided an ideal opportunity to show the wider community how we go about 'documenting our past (and) informing our future'.
Scheduling the event on a weekday allowed for the maximum involvement of staff (assisted by some of our volunteers), and meant that were able to offer a wide range of activities throughout the day. For those who wanted to sit and listen there were a series of talks by State Records' presenters, as well as outside experts. These presentations included talks on the use of State archives for TV scripts and social history; online resources; new ways of searching the archives, and dating old photographs.
Visitors also had the opportunity to see the archives 'close up'. Tours were offered every half hour; and there were conservation working bees, digitisation workshops, and conservation clinics where our conservators advised people on how best to keep their family records. Each tour culminated in a viewing of selected 'treasures' from the collection, which included Governor Phillip's map of Sydney, 1792, early convict and immigration records, watercolour sketches of proposals for the Sydney Harbour Bridge, one of Utzon's original drawings for the Sydney Opera House, and Ben Chifley's Railway Personal history card. Feedback received on the day and subsequently has confirmed that the event was an outstanding success.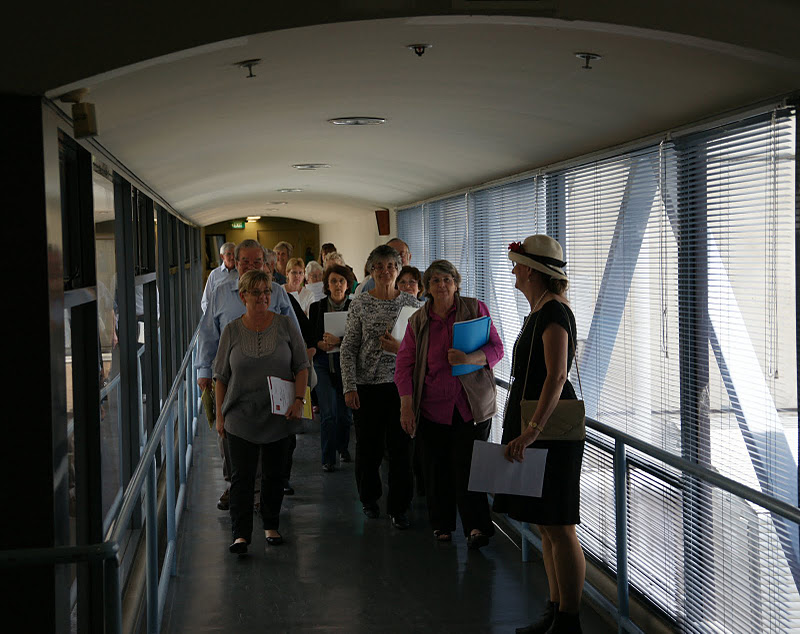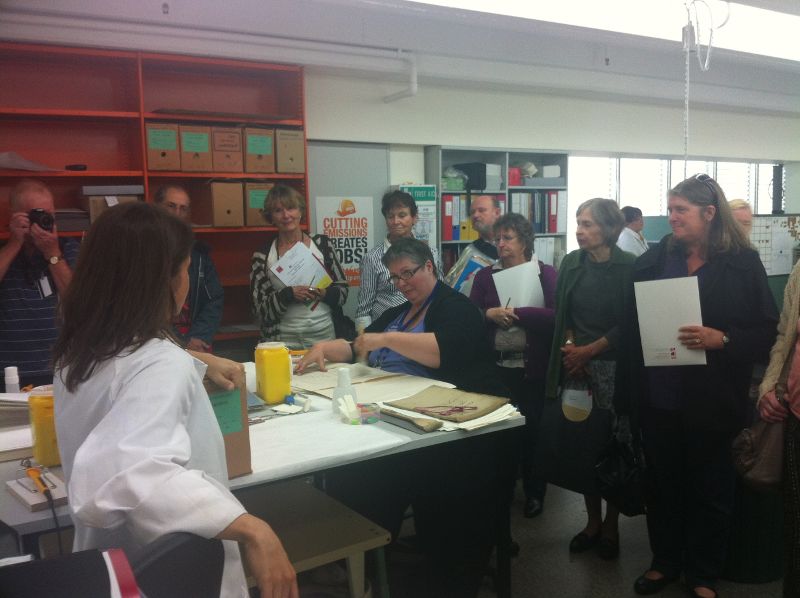 WARNING

- Bogus family history emails

We have recently been made aware of a bogus website for NSW birth certificates so we thought our readers should be informed.

A website calling itself NSW-birth.certificate-express.org is advertising that it provides NSW certificates in 2-3 days at a cost of $24.99.

This is not a legitimate business. Please do not use this website and be alert when receiving emails.

NSW Birth Death and Marriages website has a warning regarding "Certificate Express" on its website. People are paying for and not receiving certificates.
Find and Connect
On Monday 16 November 2009, then Prime Minister Kevin Rudd delivered a National Apology to Forgotten Australians and Former Child Migrants for the neglect and mistreatment they experienced in institutional and other forms of out of home care last century. To mark the second anniversary of the national apology, Ms Jenny Macklin (Minister for Families, Housing, Community Services and Indigenous Affairs) launched the new Find and Connect web resource that helps care leavers find records held by past care providers and government agencies. The web resource is part of the national Find and Connect service which will help care leavers locate their personal files, piece together their past and, where possible, reunite with family members.
Archives Outside Blog update
Moments in time - can you date this photo?
More photographic puzzles for you to solve include:
Rolling back into history [Conserving a 13 metre petition from 1862]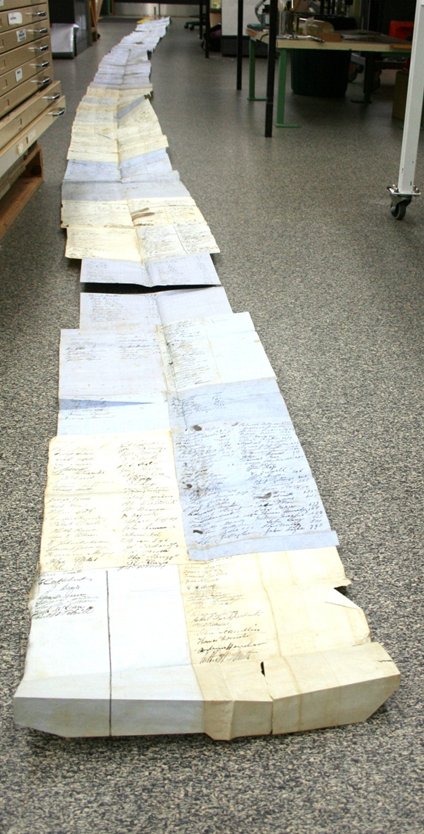 How do you preserve a 13 metre long document?
The petition is from 1862 and was initiated in protest to the sentencing of William Spicer, who was convicted for his involvement in rioting against the Chinese community at Lambing Flats gold fields in 1861. The individual collated sheets of signatures were pasted together, 2 abreast and then end to end to form a single 13 metre long document. For storage, the petition was folded in half lengthways, and then compactly rolled over and over.
Have you heard of History Pin?
Historypin is a public history collaboration working with individuals and communities, in partnership with Google and over 100 institutions around the world, to share their collections and build community around local history .... A user-generated site, anyone can contribute their photos and stories to Historypin, which is searchable by place and date. Users can geo-tag and date their content by pinning it to the Historypin map, overlaying it on Google Street View where available.
Novacastrians to the rescue – valuable school records preserved
Admission registers in particular are a great source of social history with their detailed information about students and their families. This is a wonderful example of people who valued the records and what they represented saving them from destruction and ensuring their long term preservation by returning them to public custody.
Tips for dating photos – update list
This is the list that accompanied the Archives Outside talk at the Open Day. it's been updated since the original version.
Happy dating!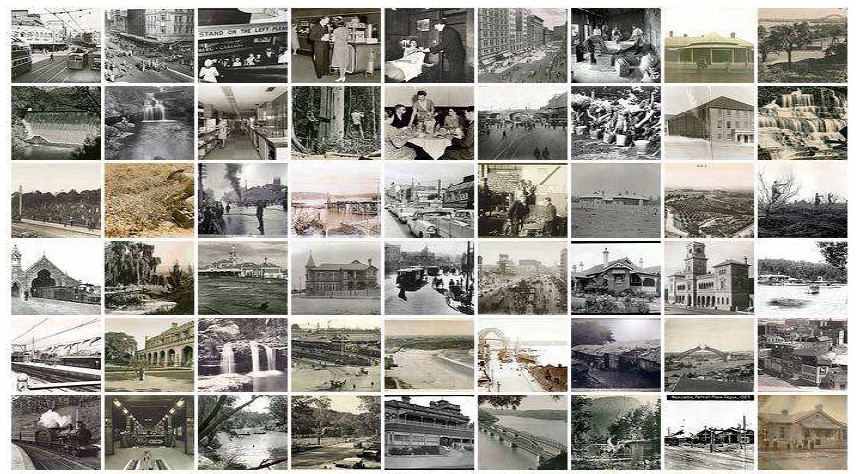 Digiman goes Arctic in his quest to understand preservation planning
Flickr update
The latest additions include:
| | |
| --- | --- |
| Harrington Street, The Rocks | Rubbish tip, Campbell Street |
| Ship at Cockatoo Island | The Lodge, Canberra |
| Derailment at Campbelltown | Central Station, 1954 |
If you don't have a Flickr account you can still browse these photos on Flickr, many of which are also available on Photo Investigator.
Spotlight on 50 years of State Records
We thought it would be quite fitting to do the last Spotlight of 2011 on us - State Records. As you know 2011 has marked the 50th Anniversary of State Records. As part of the celebrations the online Gallery has featured 50 items from the archives highlighting the diverse range of records held within the collection. Here is a timeline of the major dates in the 50 year history of State Records:
1960s

1 June 1961 The Archives Act came into effect. The first Archives Authority (Chairman, Deputy Chairman, and seven members) as well as the Principal Archivist were appointed.

29 June 1961 First meeting of the newly formed corporate body held at the Public Library. The Principal Archivist was also the Principal Librarian of the Public Library, as well as the Mitchell Librarian - Gordon Richardson.

In 1961 access to the State archives was by reader's ticket issued to accredited students and researchers or issued by the Trustees of the Public Library for the use of the special collections of the Library. With some exceptions, no restriction was placed on the use of State archives that were more than fifty years old, the fifty year period conforming to fairly common standards in overseas archival institutions.

The 1960s saw the first of the several agreements between the Authority and other regional institutions for the long-term loan of State archives created in the region.

The Government Records Repository at Shea's Creek was the responsibility of the Public Service Board rather than the Archives Authority, the Authority always included a report on the repository in its' annual report. The Act required a repository to be built, Shea's Creek could only be a temporary expedient.

December 1961 Extensions to the Public Library building were constructed to house the archives.

1962 Gordon Richardson began looking for prospective sites for the repository. Eventually after looking at a number of sites, Kingswood near Penrith was acquired.

From late 1963 a member of the Archives Office staff was on duty in the Mitchell Library to guide and assist readers with the use of State archives, this being in essence the beginning of separate reader services (although issues and these services were still provided in the Mitchell Library reading room).

1964 by the end of 1964 the existing repository (Shea's Creek) was completely filled with records due to the imminent move by government departments into the new State Office Block (where there would be little storage space).

1965 The List of Series Titles in the Archives Office of New South Wales published was the first attempt to provide information about the totality of the records held as State archives.

By 1967 the Government Records Repository at Shea's Creek comprised two sheds, with further semi-active records stored in the basement of an old building in Margaret Lane, Sydney.

During 1967 a series of eighteen radio broadcasts under the general title "From the State Archives" were broadcast by the ABC; these were widely heard and well received.

1968 Round this time, a marked change in inquiries became evident. Research into family backgrounds turned into a popular pastime. To cope with the increasing demand of the public to access original records and to protect original documents, it was decided to make microfilm copies of the most-used records.
1970s

1970 Readers were pleased when two important publications appeared Concise Guide to the State Archives of New South Wales and a Guide to Convict Records in the Archives Office of New South Wales

A member of the Archives Authority Board asked whether there were plans for the installation of a computer 'if one should prove necessary in the future'.

1971 The Premier had approved preparation of working drawings for the proposed repository at Kingswood.

1972 Records made available up to 30 years from the date of creation, although public offices could still impose a longer restriction period.

Feb 1973 Building work on the new repository also commenced in that year, with the first portion of the building being occupied in August 1974.

August 1974 Stage I at Kingswood containing '15' cells was ready for occupation.

1975 The Authority's suggestions in late 1974 to the Public Service Board on ways in which the management and disposal of records might be improved saw the Board establishing a Task Force to investigate records management within the NSW Public Service in March 1975. This Task Force's report recommended a number of significant changes including separation of the Archives Office from the State Library, a substantial increase in the staff establishment of the Archives Office, and the creation of a Records Management Office.

August 1975 Approval for the construction of the building for the Archives in The Rocks was approved.

1977 the beginning of work on extensions to the Government Records Repository at Kingswood with a warehouse-type building designed expressly for records having a limited retention period, the first stage being completed the next year.

1978 the Archives Authority moved from the State Library to its purpose built six storey building in the Rocks.

15 January 1979 Rocks reading room opened
1980s
1982 The release by the NSW Registry of Births, Deaths and Marriages of microfiche copies of the Indexes to Births, Deaths and Marriages, 1788-1899, and its supply to the Archives Office and elsewhere  produced an enthusiastic response from the public with more than 10,000 fiche being issued in that year alone.

1983 Capacity for semi-active records doubled at the GRR at Kingswood with the completion of the second Stage II extension (Phase 2) in August 1983

All records were removed from the notoriously unsafe Shea's Creek sheds which were then vacated by the end of 1983

30 June 1987 the original services building was completed at Kingswood spacious search room in the newly built Services Building at Kingswood. This consisted of the Conference Room, Foyer Area, the Reading Room, Readers lounge and offices behind. Before this stage was completed there was no public access to this building.
1990s

30 January 1990 Index to the Colonial Secretary's Papers, 1788-1825 launched.

1 July 1990 The Records Management Office and the Government Records Repository were financed from their own income as commercial entities. The 'user pays' principle proved remarkably effective.

May 1994 Stage III officially opened. This stage has a floor area of nearly 4000 sq meters and 65 km mobile compactus shelving. It holds the equivalent of 350 000 standard boxes.

October 1995 first foray into the Internet.

July 1996 website went live

1 January 1999 Commencement of the State records Act 1998 Implementation of the new Act included conducting an extensive series of briefing sessions for public sector bodies around NSW, publishing a comprehensive Government Recordkeeping Manual and launching a new World Wide Web site.

1999 Archives in Brief launched.
2000s

July 2000 Archives Investigator went live

February 2001 First travelling exhibition, Unity and Nationhood launched at Tenterfield.

December 2001 volunteers program established to help make parts of the State archives collection more accessible. From an initial intake of 10 persons working in the Western Sydney Records Centre there are now 46.

2004 all original records located at Kingswood May 2004 - State Records provided significant advice to the panel to advise government on Aboriginal Stolen Wages.

June 2005 Stage 6 handed over. Stage 6 was named Government Energy Champion for using the earth's natural heating and cooling to create the perfect atmosphere for archives while minimising greenhouse gas impacts.  

20 February 2006 Convict records were inscribed on the Australian UNESCO Memory of the World Project Register.

September 2006 In Living Memory Surviving Photographs from the Records of the NSW Aborigines Welfare Board, from 1919 to 1966 was launched at State Records Gallery.

2007 State Records' Future Proof strategy dedicated to the protection and management of digital records of the New South Wales Government was put in place.

2008 State Records started to experiment with 'social networking' such as Flickr and You Tube.

2008/09 An agreement was entered into with The Generations Network (Ancestry.com) to make available digital copies of a large set of State archives which already widely available on microfilm  on its Ancestry.com website.

May 2009 Archives Outside blog established to provide interaction, promotion, outreach and guidance with, to and for keepers of archives in NSW.
2010-2011

January 2010 to celebrate the 200th anniversary of Lachlan Macquarie's investiture as Governor of NSW, the digital gallery Lachlan Macquarie: visionary and builder was added to the website.

3 November 2010 New online research service for historical land title records (PIXEL) launched at the State Records Centre.

2011 To mark the occasion of the 50th anniversary of State Records, a significant milestone in its history, an online exhibition and a 50th anniversary web page featuring 50 iconic items from State Records' collection has been developed.

In addition to the exhibition historian Dr Peter Tyler was commissioned to write a history of State Records which was published in June 2011.

February 2011 State Records commenced the implementation of a digital archives solution capable of accepting, preserving and making available born digital records of the NSW government as State archives.
The next 50 years?
If we undergo the amount of changes and developments in the next 50 years which we have in the previous 50 then we are in for a bumpy but enjoyable ride! We are now seeing the dawn of the digital age this is beginning of the next phase in State Records history - exciting times ahead!
How you can stay up-to-date with State Records News
On our website
Subscribe to our website news - receive an email each time we post a news item.
Our social media channels
Twitter
If you like to tweet or just read tweets follow us on Twitter where we post news items and links of interest to genealogy and archival resources.
Facebook
On Facebook we post updates, events and much more.
YouTube
On YouTube we have added some in-house videos such as "The Criminal Underworld of Sydney in the 1840s" and "Family History at State Records NSW" and other archival films from our collection.
Exhibition
You can still see the In Living Memory exhibition of photographs from the Aborigines Welfare Board at State Records Gallery in The Rocks.
Upcoming Talks and Tours
Where there's a will: Probate packets and related records
Records relating to the administration of the deceased person's estate may help fill in some of those frustrating gaps or inconsistencies on death certificates. These records include Probate packets; Deceased Estates; Intestate files. Presenter Christine Yeats.
4 February 1:30pm-3:30pm
Society of Australian Genealogists, Richmond Villa, 120 Kent Street Sydney
Contact: Julie Morgan
Phone: (02) 9247 3953
Email: julie@sag.org.au
History of public education in NSW in the 19th and early 20th century
Christine Yeats will draw on sources in the NSW State archives as well as local resources relating to publiuc education in the 19th and early 20th century.
18 February 2:00pm-3:00pm
Vonnie Young Auditorium, Bowen Library, 669-673 Anzac Parade
Contact: Hazel Brombey
Phone: 9349 3572
State Records NSW - Introduction for Family & Local Historians
Learn how to make the best use of 'State Records' online and reading room resources (including guides, finding aids, indexes and digital copies of the records) for family and local history research.
29 February 10:30am-12:30pm
State Records NSW, Sydney Records Centre, 2 Globe Street, The Rocks
Contact: Julie Morgan
Phone: (02) 9247 3953
Email: julie@sag.org.au