Now&Then 56 - June 2012
In this Issue: read the latest online news; the closure of the Rocks reading room Friday 29 June; Christine Yeats announces her retirement; the Spotlight on Romance & Industry revisited; our Blog and Flickr updates and more!
Online News
1. Our website has had a makeover
We recently launched our new homepage. New options and quick links make for easy access to information.
Three new options
Search Online - directs you to our new collection search page where all our online search tools are accessible
The Collection - takes you to the State archives collection page where we have gathered together research topics, tools and tips. You will also find links to reading room pre-order requests, copy services, digital galleries, seminars and workshops.
Recordkeeping - for records managers in the public sector, this page gathers together policy, legislation, standards, codes of best practice and guidelines for managing records.
Latest News and Quick Links
News items are pulled from our news RSS feed. This section is dynamic, updating automatically as we add news articles. Note we also have links to our RSS feeds and social media accounts: Twitter, Flickr, Facebook, Google+, Historypin and YouTube.
Quick Links is based on statistical data and shows the most visited areas of our website. Researchers and historians will find popular topics here.
Blogs, newsletters and galleries
Towards the bottom of the new homepage are links to our increasingly popular blogs, our eNewsletters and our online exhibitions.
We hope you find the new layout more user-friendly.
2. More Probates listed in Archives Investigator
Probate - 511, 287 packets now listed online
Now you can search the 511, 287 probate packets online! and more probates are being progressively added.
How to search online
There are two search options:
1. Try our experimental catalogue search tool - simply type in a name

2. Search Archives Investigator

Pre-order or Purchase?
1. Request a file from your search results to view in the reading room in Western Sydney. Make sure to put your request in at least 2 working days ahead of your visit. Use the "pre-order for visit" option
2. Buy a photocopy of the file online. Use the "purchase a copy" option.

3. Archives Investigator - Online Tutorial
We have a new eLearning module on how to search Archives Investigator (AI) - our catalogue. The tutorial includes an introduction to AI and practical tips and tactics for searching. It takes approximately 20 minutes to complete.
4. Release of Request for Tender to digitise Will Books
State Records has released a Request For Tender for third parties to digitise the series of Will Books, 1800 - 1952 and make them available to the public online.
Findmypast.com.au
State Records recently signed a non-exclusive agreement with Find My Past to digitise selected convict, shipping and gaol records with later additions likely to follow. This agreement will play a part in ensuring remote users will have more options to access State archives.
Findmypast.com.au have now launched the brand new website with the addition of a number of new features and newly published records. As well as a new design, Find My Past have sorted the records into collections, making it easier to search.
State archives on Ancestry
State Records NSW and Ancestry.com.au have a non-exclusive agreement whereby Ancestry has digitised selected State archives already open to public access and publicly available on microfilm.
The agreement also allows Ancestry to create indexes to the records. The aim of this, and any future agreements with other commercial providers, is to provide improved access to State archives which means giving more choices to researchers, especially remote users who are unable to visit our reading room, regional repositories and community access points.
With Ancestry progressively adding more to their site it is easy to lose track of exactly what State archives can be located on Ancestry. Some of the records which you can find on Ancestry include:
Convict records
Convict Indents 1788-1842, NSW and Tasmania Convict musters 1806-1849, Registers of Convicts' Applications to Marry 1826-1851, Convict death register 1826-1879, Ticket of leave 1824-1867, Certificates of freedom 1827-1867, Conditional and Absolute Pardons 1791-1867
Immigration
Unassisted immigrant passenger lists 1826-1922, Assisted Immigrant passenger lists 1828-1896, Immigration deposit journals 1853-1900
Other examples
Certificates of Naturalization 1849-1903, Colonial Secretary's papers 1788-1825, Registers of Coroners' Inquests 1796-1942, Sands Street Index 1861-1930, Public Service Lists 1858-1870, Certificates for publicans' licences 1830-49, 1853-60, Registers for the Randwick Asylum for Destitute Children 1852-1915 and many more.
Locating State archives on Ancestry
When locating State archives on Ancestry one way to search is to:
Hover over the 'Search' tab
Select 'Search All Records'
Select 'Australia and New Zealand' tab
Click on 'New South Wales' on the map of Australia
City (Rocks) reading room closes its doors - Friday 29 June
With the forthcoming closure of the Sydney Reading Room on 29 June the microform material and facsimile copies of selected records have started to be transferred to other locations. Many of the microfilmed material will be transferred to the NSW State and Mitchell Library. The CODs (Copy Of Documents) will be sent to the Western Sydney Records Centre.
Christine Yeats (Manager - Public Access) announces her retirement
A message from the Director
Christine Yeats has been working as an information specialist, librarian and archivist since graduating with a Diploma in Librarianship in 1973. She moved completely from the dark side of Librarianship to the light of archives having completed the Diploma of Archives Administration in 1976.
Christine's first job as an archivist was with the Commercial Banking Company of Sydney where she worked between 1974 and 1977.  Her long and successful career with State Records started in 1977 and she has been with us ever since. An illustrious career spanning 35 years albeit with a minor break working for the Electricity Commission/Pacific Power in the early 1990s.
As we all know long careers by very loyal staff are not unusual at State Records, this has been illustrated by John Burke, Richard Gore, Michael Allen and Christine Shergold who all served the State of NSW faithfully for many years, and Chris has not been an exception to this rule.
Chris has made a massive contribution to State Records during her time with us, in all areas, but most particularly in making our archives understandable  and more accessible to our many and varied users. Her outreach activities have been beyond compare. Most other jurisdictions around Australia have severely curtailed their efforts in this area however, State Records has gone from strength to strength under her leadership.  In addition  Chris has negotiated a number of very favourable third party agreements with commercial providers such as Ancestry.com. Recent statistics show that since the implementation of these agreements in 2009 there have been more that 35 million hits on State Records sourced materials on Ancestry. This is a staggering figure and Chris can be justly proud of her contribution and the perseverance she demonstrated during the negotiations to get these projects off the ground.
Chris has always been a great advocate for archives in general and for State Records in particular.  In this regard she has selflessly given up her evenings and weekends for many years, attending and giving lectures, going to functions, book launches and exhibitions openings and more often than not catching a bus home rather than asking for a cab charge! Chris was a founding member of the History Council of NSW and has been instrumental in the growth and development of that organisation since the mid 1990s. In fact I believe she is the longest serving member of the History Council.  Chris has also been involved with many other groups such as the Australian Women's Archive Project, Australian Memory of the World Project and the Soldier Settlement Project to name just a few.  Chris has always been willing to travel and gives talks all over the State  wherever  historical and family history societies are, no matter who  expresses an interest in our archival collections. The  vast distances of the Australian outback have never deterred her from spreading the good word. In addition to her work for State Records Chris has not being backward in coming forward. She has been the President of the Randwick and District Historical Society.
Chris is one of the most hard working individuals I have ever worked with who goes the extra mile on a daily basis to the great benefit of the organisation she knows and loves so much. Chris was recently elected to the Council of the Royal Australian Historical Society so we can expect to see her as a Councillor working for the benefit of State Records in an indirect rather than direct way.
On a personal note I am extremely sorry to have to say goodbye, Chris, as Manager Public Access has given me great support in my role as Director and provided me with wonderful and sage advice which I will treasure always.  Thanks Chris for your inestimable contribution to State Records and we all wish you well in your new life.
Alan Ventress
Director State Records
Archives Outside blog update
The blog is three years old now!
Our blog's birthday is also our Annual Lurkers' Day. We invite you to say 'Hi'.
There are nearly 350 posts and over 1300 comments on the blog. We'd like to say Thank You to everyone who visits, reads, guest posts, comments…and lurks. Yes, you! You know who we're talking about.
Moments in Time - Can you date this photo?
More photographic puzzles for you to solve
We're on Historypin
Historypin is a public history collaboration working with individuals and communities, in partnership with Google and over 100 institutions around the world, to share their collections and build community around local history.
The fun part is laying old photos over Google streetview and then using the transparency slider to view 'now' and 'then'.
Visit State Records on Historypin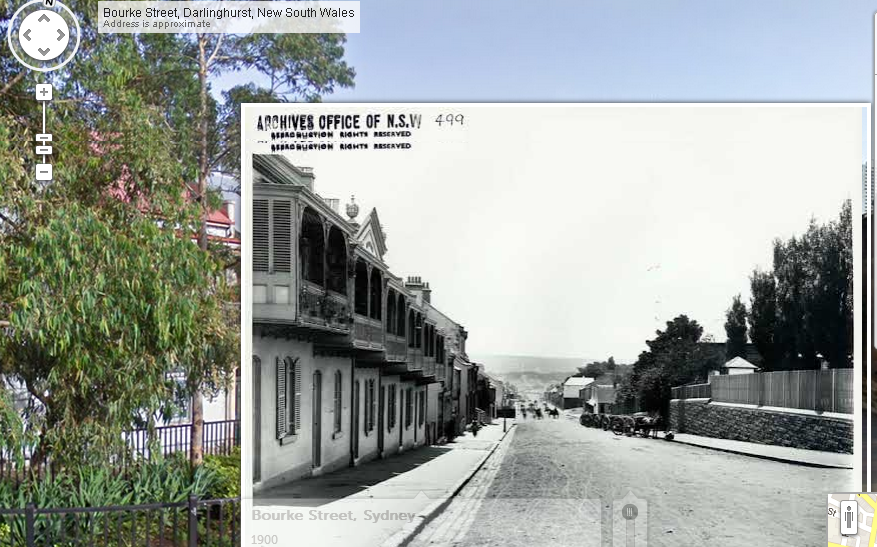 Removing chewing gum from paper documents
Our conservators were asked:
Question: Can you give info on removing chewing gum on reverse side of an important document?  There is a small quantity of gum still in place - fairly fresh, a circle of about 1/2 inch.  Some stain has bled thru to front.   What is a safe cleaner?  Or is this a job for a conservator/archivist?
Cool tools - calculators for environmental conditions
Recently in my job I've had reason to be looking at storage environments for cold stores, cool stores and everything in between. This included the impact they have on records and in particular photographs, negatives and films.
Flickr update
We have almost 1800 photos on our Flickr stream. Some of the latest additions include:
| | |
| --- | --- |
| Manly Wharf, 1936 | Sydney Harbour, c1959 |
| Royal Easter Show | Farm Cove, Sydney |
| Tourism brochure, 1938-41 | Tamworth, 1929 |
If you don't have a Flickr account you can still browse these photos on Flickr, many of which are also available on Photo Investigator.
Spotlight on Romance & Industry revisited
Romance & Industry: Images from the NSW Railways - Revisited
With the relocation of older exhibition pieces from the City office, we saw an opportunity to reconstitute the 'Romance & Industry' exhibition out at the Western Sydney Records Centre.
Taking advantage of the original exhibition in The Rocks in 2005/2006 the new installation includes recently digitised railway images from our collection.
Romance & Industry captures a grand age of travel by train, just before it was overtaken by air travel and school holidays in the family car. Photographs and publicity brochures portray the spirit of these journeys between metropolis and country, through images of travellers and trains located within the Australian landscape.
So our boss woke up at 3am...and this is what happened
So our boss, State Records Deputy Director Jenni Stapleton, woke up at 3am one morning with a vision. This vision said rail, it said exhibition, it said Western Sydney Records Centre, it said Web 2.0 and it said website...Step 1 Send an email out to all victims, sorry volunteers, congratulating them on their new membership to the "Aesthetics Committee" (carefully omitting the "Exhibition" word)...
Read the exciting behind-the-scenes story based on our boss's 3am inspiration of how we 'revived' the Romance & Industry Exhibition in just two weeks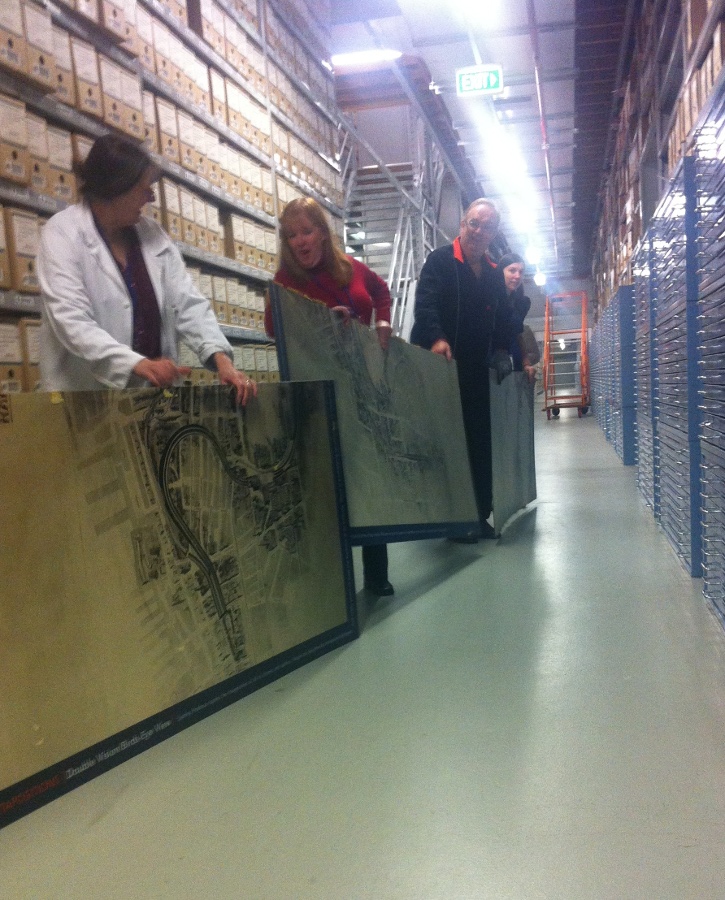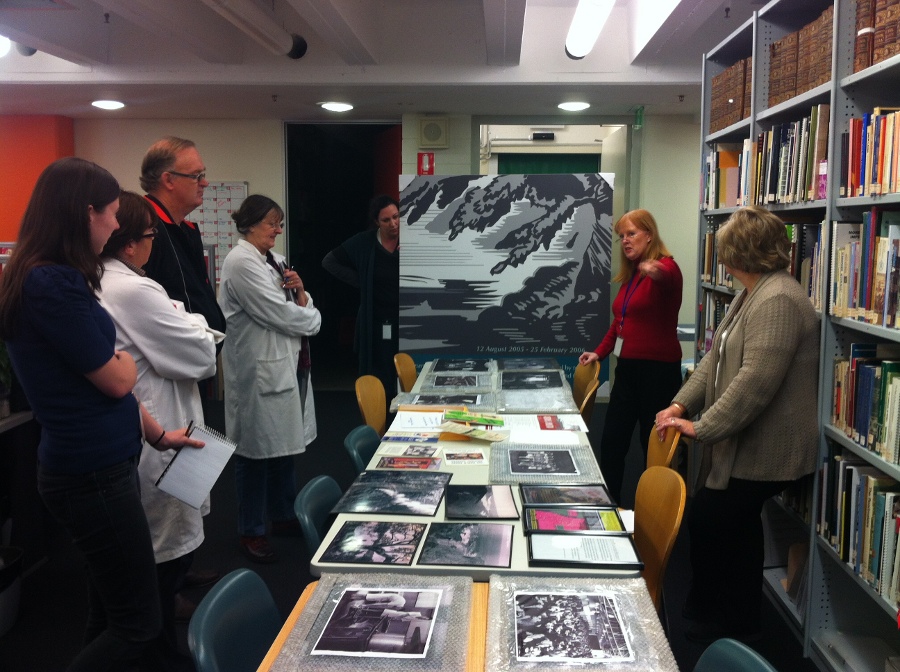 The exhibition is both attractive and interesting and we look forward to your visit!
Stay up-to-date with State Records
On our website
Subscribe to our website news -
receive an email each time we post a news item.
Our social media channels
Exhibition
The In Living Memory exhibition on display at State Records Gallery in The Rocks is coming to a close on Thursday 28 June 2012.
The exhibition of photographs from the records of the Aborigines Welfare Board first opened in September 2006 and was so important to the Aboriginal community that it remained open and a touring version travelled to 18 venues around NSW.
The Sydney Records Centre is closing at the end of June and In Living Memory will close along with it. State Records hopes to restage the exhibition some time in the future at its Western Sydney Records Centre in Kingswood.
For any enquiries please ring 9673 1788
In Living Memory exhibition
State Records Gallery
Sydney Records Centre
2 Globe Street (off George Street)
The Rocks
FREE ENTRY
9am - 5pm, Mon - Fri only
Closed weekends & public holidays
Last day at State Records Gallery in The Rocks Thursday 28 June 2012
Upcoming Talks and Tours
Brick wall, back alleys and research byways
Christine Yeats will speak about strategies for dealing with some of the typical brick walls that can be encountered by researchers.
2 June 2:00pm-3:00pm 
Coach House, rear Hambleton Cottage, cnr 63 Hassall Street and Gregory Place, Parramatta
Contact: Jan Stoker
Email: janeecestoker@bigpond.com
Searching for NSW State Archives in Ancestry
Christine Yeats will look at ways of making the best use if extensive resources such as arrival, convict, ticket of leave or land grants held in the NSW State archives collection, that are currently available on Ancestry.
9 June 10:30am-12:30pm
Richmond Villa, 120 Kent Street, Sydney
Email: info@sag.org.au
Using Ancestry's resources and tips and tactics for preparing your visit to Kingswood
Christine Yeats will speak about the NSW State archives that are now available on Ancestry. Not everything is online.....so Christine will also offer some tips and tactics on preparing for your visit to Kingswood where you can access the wealth of archival resources that can only be accessed in their original (uncopied) format.
7 June 9:00am-11:00am
Warringah Library Family History Group
Contact: Kaye Vernon 
Email: kaye@teapotgenealogy.com
Shoalhaven Family Local and Cultural History Fair
Christine Yeats will present Shipwrecks of the South Coast: Sources in the NSW State archives exploring the wealth of information in the NSW State archives relating to some of the maritime tragedies on the south coast.
15 - 16 June 9:30am-4:00pm
Nowra School of Arts Berry Street Nowra
Using death, probate and coroner's records in your family history
Gail Davis will outline tips and tactics on using death, probate and coroner's records when conducting your family history research.
1 August 10:30am-12:30pm
Tuggerah Library Westfield Shopping Town, Tuggerah
Contact: Michelle Goldsmith
Phone: (02) 4350 1567
Getting to know State Records' new catalogue search and Searching the NSW State archives on Ancestry
Gail Davis will present:
Getting to know State Records' new search tool
This presentation will look at the new search tool that has been developed to make it easier for you to search State Records' online catalogue.
Searching the NSW State archives on Ancestry
This presentation will look at ways of making the best use of the extensive resources such as arrival, convict, ticket of leave or land grants held in the NSW State archives collection, that are currently available on Ancestry.
3 August 10:30am-12:30pm
Wollongong City Library
Contact: Eileen Smith
Phone: (02) 4227 7693